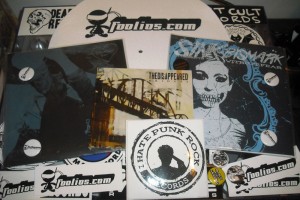 CONGRATS TO JASON BULL!!!!!
Who wants some FREE records? Everyone wants free records, and our buddies at I Hate Punk Rock are making it happen!!
What you will get if you win:
1. Sink The Bismark – Without Fear 7″  (Red Limited to 300)
2. Be My Doppelganger / Jetty Boys – Split 7″ (Blue Limited to 350)
3. The Disappeared – Bridges CD
4. foolios.com slipmat for your turntable
5. Misc. Buttons & Stickers
HOW TO ENTER:
1. Like foolios.com & I Hate Punk Rock on Facebook
I Hate Punk Rock's Facebook Page
2. Wait until Black Friday (Nov 25) for the drawing. I will randomly draw a name from the "likes" on the foolios.com page. Will then verify that they also "like" I Hate Punk Rock. Winner will be contacted and sent FREE records. Really doesn't get too much easier than that folks!!!